Iraq's Moment
Iraq's strong oil revenues this year, coupled with a new $37-bn investment plan, will ensure double-digit hike in GDP this year. However, political and security issues could derail growth.
Iraq's expected double-digit growth this year is a reflection of high oil prices more than anything else, but the government has a chance to build on this windfall with the $37-billion development programme announced in late April.


With Iraq sitting on the fourth largest oil reserves in the world, foreign investment can flow quickly if the government can improve security and keep other key economic indicators at favourable levels.
But with the latest political changes sweeping across the region, Iraq has to navigate through a multitude of internal and external challenges, before it can leverage its oil-led growth.
Article
With Libya, Syria, Egypt and Yemen grabbing all the headlines, it is easy to lose sight of some of the countries in the region that are quietly progressing along.
Apart from Qatar, Iraq is the only other economy in the region expected to post double-digit growth this year, according to the International Institute of Finance (IIF). The banking body expects Iraq to post an 11% GDP growth in 2011, second only to Qatar's 18.1%.
The International Monetary Fund expects Iraq to grow at 9.6%, with inflation at a reasonable 5% and nominal GDP reaching $108-billion - the first time it will cross the $100-billion mark.
But Iraq is hardly a paragon of stability. The Arab Spring has not spared Iraq and its citizens have been out on the streets demanding key reforms and access to basic infrastructure and jobs - but the protests have not threatened the government just yet.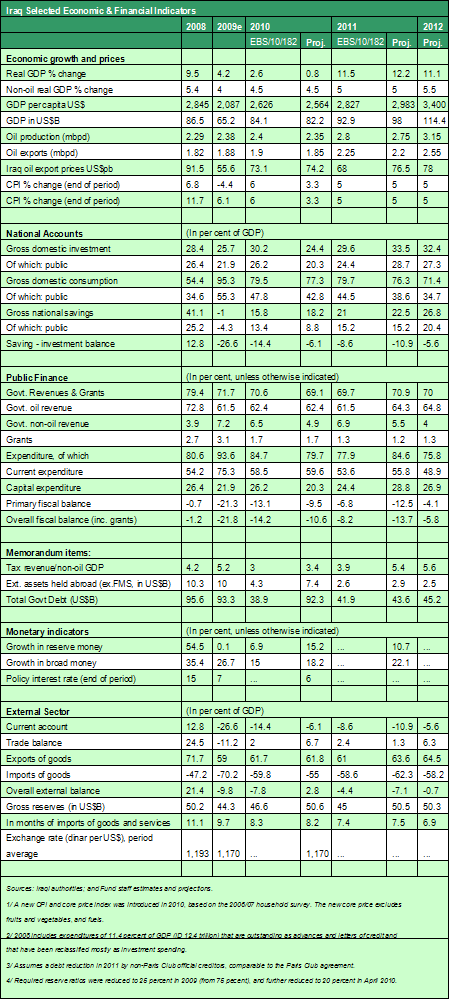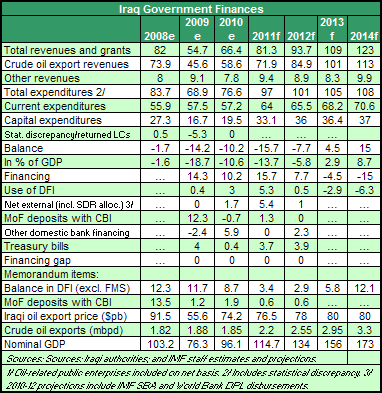 The country, which is recovering from the United States-led invasion apart from multiple wars during the eighties and nineties, remains vulnerable to the problems affecting other countries in the region. There is a danger of Iraq getting swept up in the events taking place in Syria and the Gulf-Iran rivalry which has threatened to escalate.

Iraq, which has a majority Shii'te population, has been watching with some consternation the treatment meted out to Bahraini Shii'te, and while we don't expect the Iraqi government to intervene, its citizens have protested vehemently against Saudi and Bahraini governments.

Iraq has no shortage of domestic concerns either. Nine months after an election that saw a divided electorate, a new government was finally formed last December led by Prime Minister Nouri Al-Maliki.

DRIVEN BY OIL
The base of Iraq's development centres around its oil industry. Although analysts think that Iraq has barely scratched the surface of its oil reserves, the country is already the world's 12th largest producer of crude. The country sits on the fourth largest reserves in the world, according to the U.S. Department of Energy, with 115 billion barrels of oil reserves.

"Just a fraction of Iraq's known fields are in development, and Iraq may be one of the few places left where vast reserves, proven and unknown, have barely been exploited," says the U.S. Department of Energy.

Much of Iraq's economic growth ihas come coming from its oil production, which has benefited from high oil prices.

"Growth in non-oil real GDP will depend on improvements in the security situation," says the IIF. "If oil prices remain above $100 per barrel, and if the production of crude oil continues to increase over the coming years to about 4.5 mbd by 2015, then official foreign exchange reserves could almost triple, rising from $50 billion at end- 2010 to $143 billion by 2015, equivalent to 78% of projected GDP, or 15 months of import cover."

Iraq has stepped up its oil production in the first quarter of this year to an average of 2.70 million barrels per day (mbd), as compared with 2.36 mbd in 2010. Assuming consumption of oil increases by 5% a year, exports of crude oil in 2011 are projected at 2.15 mbd.

The increase was to cover Libya's shortfall and also aided by three successful bidding rounds held since 2008, which drew in international oil companies to develop and/or rehabilitate Iraq's vast oil fields. The government has set ambitious plans to increase oil output to 11 mbd by 2020.

But observers don't expect the government to meet that target. The IIF expects a production level of 4.5-million barrels per day by 2015, and the International Monetary Fund at 5 million by 2017.

"The main risks in the coming years will be bottlenecks in the export infrastructure that will need to be addressed. The authorities are working to upgrade and expand the country's oil infrastructure," says the IMF.

Additional single point moorings are planned at the Basra oil terminal, as well as additional pipelines to the terminal, which is Iraq's largest point of export. Plans also include the construction of new domestic pipelines to connect the southern fields to the northern pipeline to Turkey, and a new pipeline to Syria.

In addition, large investments in supporting activities are also underway and planned, including the construction of desalination plants to produce water for injection in the fields, and storage facilities. These investments will require time to implement, and suggest a more gradual increase in Iraq's oil production. Based on more conservative assumptions for the time it will take to expand Iraq's export capacity, oil production could still increase to over 5 mbpd by 2017.

$37-BILLION PLAN
Like many countries in the Middle East, Iraq has a young population with 57% of its 31.5 million between the ages of 15-64 and 41% of the population under 14. Unemployment stands at 17.5%, according to World Bank report, and job creation is crucial.

On April 25, the Iraqi cabinet approved $37-billion development programme to improve its dilapidating infrastructure. Some of the key points of the programme includes development in key areas such as:

Transport infrastructure $10-billion
Highways $1.5-billion
Education $5-billion
Higher Education $2-billion
Water & Sewage $5-billion
Agriculture $5-billion
Health Infrastructure $3-billion

The development, which was first proposed during Prime Minister Nour Al- Maliki's first term, will at least partially be funded by the government's oil revenues. The IMF's stand-by agreement (SBA) of $3.7-billion program will also be used as part of the ongoing reconstruction of the country.

The plan is in addition to the 2011 budget, based on a conservative oil price of $76.50, which aims to accelerate investment in public services and in oil infrastructure, as well as to accommodate additional social safety net and security outlays, while remaining consistent with medium-term fiscal sustainability and available financing.

"Iraq's rehabilitation needs remain large, particularly to improve public service delivery and rebuild essential infrastructure, which are critical also to help create a private sector that can provide sufficient employment opportunities to the country's large labour force," says the IMF.

The budget deficit is projected to narrow substantially in 2012 and to move back into surplus in the following years. Over the medium-term, and even with more cautious assumptions regarding the increase in oil production than those presented in the oil companies' production plans, Iraq's government finances would reach a sustainable position.

The Central bank of Iraq has been successful in keeping inflation under control, by managing the exchange rate and by keeping the policy interest rate positive in real terms. Headline inflation and core inflation (excluding fuel and transportation) have remained in the low single digits. The CBI's policy interest rate, which has been gradually reduced, is currently at 6% and positive in real terms. With low inflation, the exchange rate has been stable since the beginning of 2009.

The bank is also reportedly planning to remove three zeroes from the Iraqi dinnar in a bid to further stablize the currency and improve the government's purchasing power.

CONCLUSION
For all its problems - and Iraq has many - under Prime Minister Nour Al Maliki, the country is slowly moving towards stability and economic recovery. Given that foreign investment remains a major driver of growth for the country, the country's security risks are high and has already delayed projects and development plans. However, the restive population with its various factions and sectarian and political divides are looking to the government for faster growth and more economic reforms to accelerate growth. Al Maliki's success will depend on how quickly the $37-billion plan is executed and whether the increased oil revenues trickled down to Iraqis on the street.
© alifarabia.com 2011
---
© Copyright Zawya. All Rights Reserved.
---
---
People Who Read This Also Read
More in Iraq