$2.2T Foreign Assets
05 May 2011
The Arab World's foreign assets will rise to a stunning $2.2-trillion this year, says the IIF. But the key to growth in the region will not be financial resources but structural reforms, otherwise tensions will remain.

Arab World's Foreign Assets Set To Hit $2.2 Trillion: IIF
Gross foreign assets in Arab countries will rise to $2.2-trillion this year, with the Gulf amassing $1.7 trillion of that amount, according to the Institute of International Finance (IIF).
"More than one-third of the region's gross assets are held by sovereign wealth funds (SWFs). Despite the turmoil in the region, we do not expect to see significant shifts in funds managed by the sovereigns as a specific response to the crisis," says an IIF note.
The growth will come on the back of rising oil exports. The GCC's overall current account balance is expected to widen from an estimate of $129 billion in 2010 to $292 billion (equivalent to 22% of GDP) in 2011, says the IIF.
"Hydrocarbon exports will rise from $448 billion in 2010 to $681 billion in 2011. Nonhydrocarbon exports will also increase significantly to $214 billion (mainly petrochemicals from Saudi Arabia and re-exports from the UAE). Imports of goods are projected to increase by 18% to $414 billion, well above the previous peak of $368 billion reached in 2008."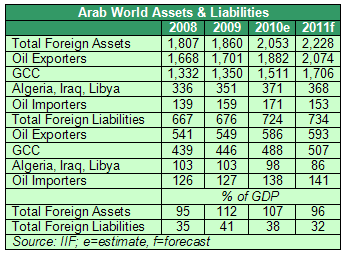 At least three-fourth of the assets are held by Saudi Arabia, UAE, Qatar and Kuwait, which have escaped the worst of the regional turmoil.
While most of these assets are currently invested in the international financial system, there had also been a rising interest in the domestic and regional markets until recent events. With relatively low external debt, the large net foreign assets ($1.2 trillion) of the GCC will continue to provide governments with the flexibility to support growth through robust government spending levels in the next few years.
Morgan Stanley also estimated in a recent report that a new wave of oil revenues - generated not only by Opec but also other major oil-exporting nations such as Russia, Canada and Norway - will be looking to find a home by next year.
"On current oil prices, a rough estimate suggests that around US$1-trillion of this year's oil revenue - roughly equivalent to the entire flow of U.S. net private saving, or around 2% of global equity market cap - could be in search of assets to buy," said MS as oil prices hovered around $100 a barrel of U.S. crude.
Regional oil-exporting countries may be looking to invest in MENA oil-importing countries, especially as international foreign investors from Europe and North America shy away.
"Both Egypt and Tunisia (and soon perhaps other countries in the region) are in discussions with potential multilateral and bilateral donors, including countries of the GCC, on possible aid programs," says the IIF.
Undoubtedly, financial resources are important at this pivotal moment in these countries' transitions. However, it is equally important that these countries also commit to a medium term framework of reforms that would help secure their long-term growth and prosperity.
Egypt, for example, offers tremendous opportunities in the real estate sector, Don't miss:
Egypt's Realty Bites
while
Tunisia's 17-point plan
for an economic turnaround. Both offer opportunities in economies that have strong population growths and functional infrastructure to build on. Both the economies had posted above-average growth in the past - despite the corruption - and there is no reason why they can't resume their growth path in much-freer societies.
STRUCTURAL REFORMS
While financial resources will be important, the key to growth in the Arab world will be structural reform. "The popular uprisings in the Arab world represent a historic turning point and could constitute a structural break with decades of authoritarian rule, weak institutions and poor governance, mediocre growth, and chronic unemployment," says the IIF.
While most of the Arab World prefers the state being the biggest economic player in the country, which often undermines the private sector, reduces innovation and job creation. Private investment averages less than 15% of GDP in the region, compared to more than 20% in other regions... Arab countries can put their economies on a higher growth path by rationalizing the role of government and improving institutional quality," says the IIF.
The Arab World is behind other regions in most indicators that suggest vibrant growth such as inclusion of women in the workforce, youth employment, manufacturing and private sector enterprise. Even though the Arab World's economies have shown reasonable growth over the past decade it has been outpaced by rising numbers in the workforce.
"Furthermore, because of corruption and, more generally, weak institutions, the benefits of growth were poorly distributed within society. Without broad-based or inclusive growth, Arab countries will continue to face social tensions," says the IIF.
Meeting the employment challenge will require the transformation of the region's societies and economic structures.
© alifarabia.com 2011
---
© Copyright Zawya. All Rights Reserved.
---
---