Cement Sector Poised For Solid Performance
03 May 2011
The recent skirmish between Saudi cement buyers and sellers over price suggest that even before the new real estate projects come on line, cement prices are rising. Can Saudi cement producers deliver without letting prices run away to ensure the King's social agenda is met?
The Saudi cement sector is going to be a vital building block in Saudi King Abdullah bin Abdulaziz Al Saud's massive plan to build 500,000 houses for Saudi citizens. Already under pressure from robust demand from the $700-billion worth of projects taking place in the country, the new set of extra-budgetary plans means the cement producers are facing a 'nice problem' of meeting rising demand.
Cement Sector Poised For Solid Performance
The cement sector will be one of the key elements of the Saudi King Abdullah bin Abdulaziz Al Saud's $130-billion investment. The royal decree sees commitment to spend SR250 billion on building 500,000 new houses over an unstated period.
"This will stimulate strong growth in the construction sector and related industries (such as suppliers of construction materials machinery and utilities) and services (architects, plumbers, etcetera)," says Jadwa Investment.
While the King's decrees had given impetus to all sectors of the economy, the cement industry will be a crucial cog in ensuring that all the orders are fulfilled.
Also Read:
25 Fascinating Facts About Saudi Real Estate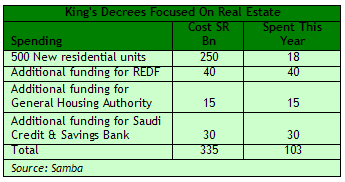 Even before these announcements, projects worth nearly $700 billion were active in Saudi Arabia with almost half of them focused on real estate projects.
Zawya Projects Monitor data shows 72 significant real estate projects worth $331 billion are under way in the Kingdom to meet the growing needs of its rapid population.
Read:
$700-billion Saudi Projects Under Way
These include projects in the Ninth Development Plan (2010-14) that saw their budgets rise 67% to US$385.2-billion, from the previous plan. From dams and desalination plants and ports and railway networks and construction of a million houses apart from 8,122 municipal services projects and establishment of 40 urban centers.
These developments will help offset the overhang of an export ban on Saudi companies that had impacted growth of cement companies and led to fears of overcapacity.
Domestic demand increased by 10.0% year-on-year to 10.9 million tons in 4Q10 reflecting the increased pace of economic and construction activity, noted Global Investment House in a report.
"The increase came as demand seemed to have cooled in the previous quarter to 5.0% year-on-year to 8.9 million tons compared to 14.5% year-on-year growth in quarter of 2010 to 11.4 million tons. We will have to wait for the next few quarters to determine whether the slowdown in 3Q10 points to an imminent trend or is just an aberration," says Global in a report.
Much of the increase in total cement demand in the fourth quarter of 2010 has been accounted for by non-listed players Riyad Cement and Najran Cement which increased their total local dispatches by 98.7% year-on-year to 0.47 million tons in 4Q10 absorbing 48.1% of the total growth in total cement and clinker dispatches during 4Q10 compared to the corresponding quarter last year. The newly listed player Al-Jouf Cement also managed to dispatch 227,000 tons in the first year of its operations.
Among the listed players, Saudi Cement Company witnessed the largest increase in dispatches by 221,000 tons to 1.64mn tons as the efficiency of the two new production lines launched in April 2009 with a capacity of seven million tons allowed it to follow a more aggressive sales strategy. But Yamama Cement and Tabuk Cement saw their productions decline 4.5% year-on-year and 2.9% year-on-year respectively to 1.35 million and 0.3 million tons respectively.
PRICE ALERT
While prices declined by 1.1% in the last quarter of the year continuing their downward trend since the global financial crisis, they seem to be on the rise again. The Saudi Ministry of Commerce and Industry is looking to clamp down on the sudden rise in cement prices.

The
Saudi Gazette
reported on April 24 that police had to intervene in an altercation between cement buyers and sellers as prices rose from SR14 to SR 17 within a week. Read full
story here
:
The Saudi Chamber of Commerce and Industry is looking to fix prices of a number commodities including cement, but it seems complex and difficult to implement.
Read full
story here:

Prices have been growing on the back of cement sales that grew by 9.8% year-on-year in March 2011, continuing the trend of higher growth rates from the beginning of the year.
"In absolute terms, this amounted to the highest ever domestic monthly sales, crossing four million tons for the first time," notes an NCBC research. "This more than offset the increased cement/clinker production, pushing the clinker stock ratio to the lowest level in two and a half years."
Here's how the cement industry fared in Q1, according to NCBC:
•
Sales:
Domestic cement sales grew by 9.8% year-on-year to 4.35 million tons. There were no domestic clinker sales in Mar-11 vs. 104,000 tons last year.
•
Exports:
Cement exports stood at 183,000 tons in Mar-11, up 71.0% year-on-year and 15.1% MoM from 159,000 tons in Feb-11.
•
Production:
In Mar-11 cement production increased by 11.8% year-on-year to 4.53 million tons. Clinker production also grew by 15.3% year-on-year to 3.66 million tons.
•
Market share:
Unlisted private players' domestic cement market share grew marginally by 0.2% MoM to 19.9%; the increase was 0.8% MoM to 21.1% when including exports and clinker sales.
Not surprisingly, cement producers have seen their profits surge 37.8% in the first quarter of 2011, streets ahead of the 12.1% in the last quarter of the year.
FUTURE CAPACITY
Global expects the Saudi cement's sector capacity to increase to 58 million tons by 2013 from an expected 52.8 million tons in 2010. The share of six major companies has come down to 58% in 2010 from 80% in 2006, exhibiting the fragmentation that has taken place with the arrival of unlisted players in 2008. Global expects the share in capacity to stabilize at 58-57% till 2013.
To meet demand, the Saudi Ministry of Petroleum and Mineral has been reportedly looking to invite bids for the exploitation of raw limestone in cement production.
It is unlikely that the local real estate companies, cement producers and contractors will be able to meet the entire demand.
"To roll out this number of units in a reasonable time frame, the authorities will need to use private sector developers," says Riyadh-based Samba in a note. "These contractors could come from the Gulf, but for speed and cost effectiveness East Asian contractors (especially South Korean) seem likely to be utilised. In any event, it will take time to draw up plans and identify contractors, while the best way to free up land to build on has also to be addressed. Given this, we think only a small fraction of the SR250 billion housing allocation will be spent this year."
CONCLUSION

The Saudi cement sector has received a major fillip with the announcement of the new initiatives taken by the Saudi Government. However, this growth needs to be carefully managed as rising cement prices could impact financing and delay projects. The outlook for the sector looks the most robust compared to their counterparts in the rest of the Gulf, which are facing a major downturn. Perhaps they can partake a piece of the frenzied pace of development in Saudi Arabia.
Also Read:
Saudi Arabia's Power Challenges

© alifarabia.com 2011
---
© Copyright Zawya. All Rights Reserved.
---
---
People Who Read This Also Read