Saudi and Opec breakeven oil prices are rising at worrying levels

Saudi Arabia needs oil prices to remain at $83 to $ 88 a barrel to breakeven - almost double of what it was three years ago. Rising breakeven prices means less fiscal cushion, leaving Saudi Arabia vulnerable to fluctuations in oil prices.
Saudi Arabia needs oil prices to remain around $83 to breakeven in 2011, according to the Centre for Global Energy Studies (CGES).
"An
OPEC
basket price of $83/bbl would enable the Kingdom to cover both its current and capital expenditure in 2011, and at the same time have a contingency reserve of $10 billion for all eventualities," notes London-based CGES in a report.
"To cover its current spending in 2011, after subtracting its projected non-oil and investment income, Saudi Arabia needs an
OPEC
basket price of $53/bbl. Adding in $70bn of capital expenditure (broken down into $22bn for defence, $18bn for education and manpower, $13bn for infrastructure, water, etc...) requires a basket price of $79/bbl," notes CGES.
The current CGES view is that the
OPEC
basket is likely to average $100/bbl in 2011, which implies that Saudi production of 9.13 mbpd during the year ought to yield enough income to generate a surplus of $55bn for the Kingdom of Saudi Arabia, more than double last year's surplus.
CGES chief Sheikh Ahmad Zaki Yamani thinks that the region still has not gotten over the unrest.
Of course, Sheikh Yamani knows a thing or two about Saudi Arabia and oil prices. As the man who ran the Kingdom's oil ministry for 24 years from 1962 to 1986, he was at the forefront of the famous oil embargo of 1973 and was an instrumental player in developing
Opec
in the early years.
"The political events that took place are there and we don't expect them to finish. I think there are some surprises on the horizon," he told an audience in London, adding that oil prices could hit $200-300 if unrest escalates in Saudi Arabia, although he believes it is unlikely.
Banque Saudi Fransi also has similar figures, suggesting an oil price of $80 (or $84 for WTI) for Saudi Arabia to balance their books, up from $66 barrels per day.
While the Kingdom says that the new spending will not be funded by foreign assets, BSF notes: "Longer term, the rise in current expenditures associated with increasing the number of public sector employees and offering them higher wages will leave Saudi Arabia vulnerable to fluctuations in oil prices."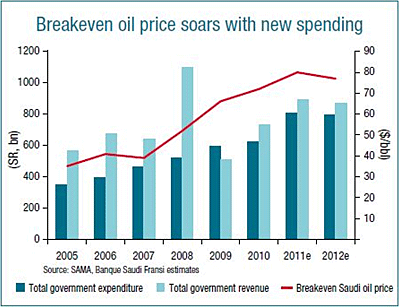 The Institute of International Finance (IIF) is even more bearish about Saudi Arabia's breakeven oil prices, placing it at $88 billion, a $20 increase from 2010 breakeven prices.
The bankers' trading group expects Saudi Arabia's break-even price to rise to $110 per barrel by 2015, as most of the spending increase in the Kingdom is "irreversible".
This is a worrying trend for Middle East oil producing nations.
In 2008, the International Monetary Fund had estimated that Saudi Arabia needed oil prices of $49 to balance its fiscal account for the year.
Break-even prices for oil-producing nations in 2008, according to IMF estimates:
Algeria $56
Azerbaijan $40
Iran $90
Iraq $111
Libya $47
Kuwait $33
Bahrain $75
Oman $77
United Arab Emirates $23
Average GCC $47
Fitch Ratings had slightly higher figures, noting that Saudi Arabia's breakeven price for oil was $54 in 2009 and $50 in 2008. For the record, its breakeven estimate for Abu Dhabi was $40 in 2009 and $70 for Bahrain.
Arab Petroleum Investments Corporation (Apicorp) recently estimated that breakeven prices for 2010 vary from $41 per barrel for Qatar to $94 per barrel for Ecuador. "In between, Saudi Arabia's break-even price is estimated at $76 per barrel, nearest to the
OPEC
weighted average of about $77 per barrel...
OPEC
weighted average fiscal break-even prices lie roughly within a $70-90/B range."
TALKING UP PRICES
Given rising breakeven prices, it is not surprising that many
Opec
producers Iranian president Mahmoud Ahmedinajad said recently that oil prices will reach $150 as current oil prices are 'not real'.
Other
Opec
members have also been dragging their feet, and not looking too concerned about calming oil market, as Brent has been hovering at $120 a barrel.
And oil markets are climbing a wall of worry. "One of the reasons why oil prices are where they are now is the conflict in Libya," notes CGES. "The eventual outcome is arguably no clearer than it was a week ago, but it does seem that any gains made by Gaddafi's forces are for now unnerving the market. However, traders are also paying close attention to unrest in Syria and Yemen."
© alifarabia.com 2011
---
© Copyright Zawya. All Rights Reserved.
---
---
People Who Read This Also Read
More in Oil & Gas