18 November 2008The Bank Benchmarking study offers an insight into the performances of retail banks operating in the UAE with regards to response time and service quality that UAE retail banks deliver through all channels
Ethos Consultancy, the region's leaders in customer service excellence, is set to release its annual Service Quality Bank Benchmarking Study. For the 4th year running, the independent study promises to be the most comprehensive study of the UAE Retail Banking Sector. A set pattern of customer service levels for each bank (by using the previous three years data) will be derived from this year's study, clearly laying out each banks commitment towards their customers.
The study each year is carried out by trained and experienced researchers who focus on real scenarios whereby a prospective customer approaches a retail bank via three channels: branch, call center or website. These channels are then evaluated on key differentiators that define customer experience at a bank and include interpersonal performance, response time, service quality and satisfactory outcome. During the study Ethos researchers conducted 1,500 visits to the 29 banks covered and data collected measured 80 different criteria which mean 40,000 responses were analyzed!
Once again RAKBANK has outdone their competition by a distance! "We are delighted that the quality of the service we provide to our customers has been voted best in the UAE market for the third year running, said Graham Honeybill, General Manager of RAKBANK. "Our entire team is delighted with this result which is exactly the encouragement we need as we endeavor to give our customers the quality service they deserve."
Ethos has for the first time established through this study what are the Key Drivers in delivering customer satisfaction. Customers require a SATISFACTORY OUTCOME and the key drivers (importance factors) that drive this are shown in the illustration below: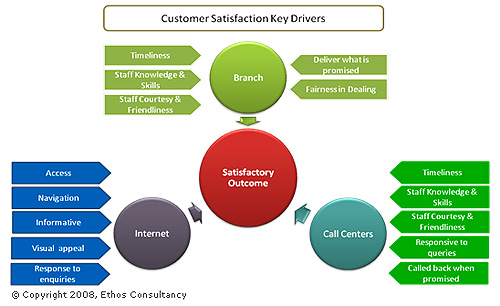 "For the first time we are able to advise the banks that they have to focus on the key drivers to achieve customer satisfaction and these are clearly the matters relating to the performance of bank staff and bank processes. Customers needs are really quite simple, they require delivery of a satisfactory outcome and we can now pinpoint the key drivers in achieving this from all the delivery channels" stated Robert Keay, Managing Director of Ethos Consultancy.
To achieve the same level of customer service provided at RAKBank branches, other banks have a long way to go. RAKBank are clearly heading the pack in this regard, and their consistency over the past 4 years is a strong and resilient show of commitment towards their customers.
In second place is First Gulf Bank, who seems to have overhauled their customer service delivery and focused their strategy around their customers, their progress over the past two studies has been dynamic to say the least. "In this journey towards excellence FGB improvement has been made by our staff commitment to our customers supported by a comprehensive programme of measure, train and sustain (MTS)" stated Ritesh Chatterjee of FGB.
Within the Best Islamic bank category, Emirates Islamic Bank came out on top with an excellent performance across all the delivery channels.
The best International bank for the 3rd consecutive year is Lloyds TSB, who has consistently maintained high levels of customer service throughout the years.
Best new entrant in this year's study is Al Hilal Bank with another new entrant Noor Islamic Bank also doing well whilst other new entrants, Doha Bank, Samba Bank and Umm Ul Quwaim Bank performance being at the wrong end of the service quality table!
Abu Dhabi Commercial Bank (ADCB) improved immensely, from last year and is now 4th best overall and they are by far the most improved bank in the study.
Banks notably improving service from 2007 were Rakbank, First Gulf Bank, Abu Dhabi Commercial Bank, Emirates Islamic Bank, Mashreq Bank, Commercial Bank of Dubai and Barclays Bank. It is a credit to all these organisations who have managed to change their strategy and direction, evolving their policies around the most important factor in any business: customers.
3 banks were showing a notably decline in customer service performance from last year were National Bank of Abu Dhabi (NBAD), Union National Bank (UNB), Royal Bank Scotland (previously ABN Amro).
In the Call Centre channel the best performance was from Dubai Islamic Bank for the 2nd year running. DIB had a response rate of less than 1 minute for answering all calls and their employees showing good depth of knowledge and empathy for customer enquiries.
The best website response performance goes to First Gulf Bank, who has maintained an excellent response rate to their prospective customers, calling them back within 24 hours and at preferred customer timings.
Philip Forrest, the President of The International Customer Service Institute and Chairman of the UK National Business Awards, has verified the study and has once again emphasizes the benefits of focusing on customer service, "Organisations that take customer service seriously will not only have to spend less to replace customers they have lost but they will also be free to select the customers that meet their business plans rather than those they need to make up the numbers. The double benefit is that those who pay attention to customer care will find it easier to develop a more profitable and increasingly loyal customer base thereby creating the opportunity to sell more products. Customers are becoming more selective with whom they bank with and this year's winner Rakbank has once again led the chasing pack in delivering best practice."
The rankings for this year provide us with the following picture:
Overall Rankings
1. National Bank of Ras Al Khaimah (RAKBank)
2. First Gulf Bank
3. Emirates Islamic Bank
4. Abu Dhabi Commercial Bank
5. Dubai Islamic Bank
6. National Bank of Dubai
7. Mashreq Bank
8. Lloyds TSB Bank
9. Commercial Bank of Dubai
10. Al Hilal Bank
11. Noor Islamic Bank
12. Barclays
13. Commercial Bank International
14. Citibank
15. Emirates Bank International / Me Bank
16. National Bank of Abu Dhabi
17. Standard Chartered Bank
18. HSBC Bank
19. National Bank of Sharjah
20. Union National Bank
21. Dubai Bank
22. Royal Bank of Scotland (RBS) (formerly ABN Amro)
23. Abu Dhabi Islamic Bank
24. Al Masraf
25. Doha Bank
26. National Bank of Umm Al Quwaim
27. SAMBA
28. Bank of Sharjah
29. United Bank Limited


| | |
| --- | --- |
| Best Bank Overall | RAKbank |
| Best Islamic Bank | Emirates Islamic Bank |
| Best International Bank | Lloyds TSB Bank |
| Best Call Centre Performance | Dubai Islamic Bank |
| Best Website Response Performance | First Gulf Bank |
| Best New Bank | Al Hilal Bank |
Robert Keay, Managing Director of Ethos Consultancy, highlights the changes from last year's benchmarking study, "The continued lack of improvement in customer service levels from some banks is alarming. More than 75% of prospective customers get in touch with a branch first and then move on to other delivery channels. The focus of all banks should primarily be on branches followed by the call center." Keay adds, "At the same time it is worth noting the improvements in the other two channels of inquiry. An increase of almost 20% for both, call center and website inquiries, is a positive sign for customers in general, but there is a definite need to up the level for branch customer service levels"
The Bank Benchmarking Study provides banks an opportunity to get access to precise and up-to-date information from a trustworthy source. The study has become a generic ranking for the banking industry and as each year passes it's becoming a source of highly valuable information.
The Benchmark & Service Quality Study will offer three distinct reports: Executive Summary, Bank Specific Benchmarking Performance Report and Online Access to the Research Input Data.
Ethos Consultancy, with its promise to radically improve customer service, will continue to release the Bank Benchmarking Study annually.
-Ends-

To get the detailed report of each bank's performance in 4th Annual Bench Benchmarking Study, please contact Dalya Gomaa at +971 50 6462509.
© Press Release 2008
© Copyright Zawya. All Rights Reserved.